Best LED Grow Lights Reviews (2019): Our Top Picks for Every Budget
If you're looking for the Best LED Grow Lights (2019) and full spectrum grow lights for your grow room, let us help you choose one. We know it's a big investment and researching all the different options can take forever, so we've done the research for you. We've painstakingly compared and hand-picked the best LED grow lights on the market to find the right ones for a whole range of different use cases. Whatever your growing needs or budget, you can find a light here to suit.
Below, you'll find award winners, bestsellers, budget options, quantum boards, supplemental lights, lights for small spaces or large grow rooms, as well as the lights most favored by our readers—in other words, the lights other growers like you are already using to get results.
Best LED Grow Lights on the Market for Growing Cannabis
We've covered a lot of lights below. So if you're short on time, check out our three Editor's Choices:
And now, here in full are our Top 11 LED Grow Light recommendations for 2019 (if viewing on a small screen, note that the table is scrollable horizontally):
Top 11 Best LED Grow Lights Comparison Table
Click the product names in the table to skip straight to the individual light reviews.
If you want to know more about LED grow lights in general, we also have a Buyer's Guide and FAQ at the end of the article. Just click the link to skip down to that section.
Here are the Best LED Grow Lights for the Money: Our Editor's Choices for 2019
We selected our list of LED grow lights based on the results they showed and features they offer.
We have also taken into account factors like customer reviews, industry awards and a close look at which lights have proven most popular with our readers.
And we've tried to keep our choices within the budget of the average home grower.
Finally, below our Top 10 Recommendations, you'll also find some great low budget options, some supplementary lights for flowering, and a selection of grow lights for small spaces.
When you're interested in any of the lights, just click the 'Buy' button to check latest prices on Amazon.
We've linked to Amazon because pretty much everyone has an account. But we also highly recommend LED Grow Lights Depot and Growers House. Both give excellent service and it's often well worth checking them out for exclusive deals and offers.
Now, here's our top pick for 2019…

Advanced LED Diamond Series XML 350 – EDITOR'S CHOICE: Best LED Grow Light (2019)
In previous years, our overall Editor's Choice went to PlatinumLED's Platinum Series P900. We still love it, it's a great light. But for 2019 we're going with the Advanced LED Diamond Series XML 350 instead. For two reasons:
The new Diamond Series is even better! No question. You still won't go wrong with PlatinumLED's P-Series lights, but with the Diamond Series Advanced LED have really surpassed themselves.
We've noticed a majority of our readers favor relatively smaller lights (600W HID equivalents and below), so we're following suit with our recommendations. However, don't worry, most of the lights we've selected—including this one—are also available in larger models.
OK then. What's so great about the Diamond Series XML 350?
This unit can comfortably cover a maximum grow space of 4.5′ x 4.5′, with core coverage of 4′ x 4′—or 16 to 20 plants. Which is more than enough for home growers in most U.S. states, for instance.
PAR when hung at 18″ is an exceptional 1395 and 987 at 24″ for a 4′ x 4′ space.
If the XML350 isn't the price point or coverage you're looking for, no problem. The XML lights are Advanced's flagship lights, but the Diamond Series has plenty of other options available within its range.
The slightly cheaper Diamond Series XTE lights combine Osram LEDs and 5W CREEs. While standard entry-level Diamond Series lights use Bridgelux LEDs only. You'll notice, though, that in all three cases all the LED chips still come from trusted manufacturers and are American-made.
Read our full review here.
MarsHydro ECO 300W – EDITOR'S CHOICE: Best Budget LED Grow Light (Under $100)
The MarsHydro ECO 300W is very much one of Mars' basic, entry-level full spectrum lights—but a very decent budget option. It's the successor to MarsHydro's top-selling Mars 300W, which Mars is now slowly phasing out.
And as you'd expect, it's even better.
What's so great about it?
This light has been a very popular choice among our readers, hence our recommendation.
But if you've got the budget, also consider one of MarsHydro's newer models in the Reflector Series or Pro II Series. You'll get brighter, more even coverage and separate veg and bloom switches—not quite as cheap, but still at a very affordable price.
Want to know more? We've reviewed the identical but slightly larger MarsHydro Mars600 here.
HLG 550 V2 Quantum Board LED Grow Light – EDITOR'S CHOICE: Most Efficient LED Grow Light
Testament to the quality, affordability and popularity of HLG's quantum boards is just how often they sell out. So if the light you want's not in stock, sorry, you may just have to wait a bit—but by all accounts, it'll be worth it!
Why? Because the HLG 550 V2 is the most efficient LED grow light to cover a 5' x 5' area! Or 6' x 6' for veg. With full-spectrum white light.
Thanks to clever design and the highest quality components, the efficiency is 2.5 umols of PAR per joule. So it's replacing a 1000W HID light while drawing just 480W at the wall.
The HLG 550 V2 is available in 3000K or 4000K models. The spectrum of the latter has more blue in it, plus a bit more green and yellow. While the 4000K has a little more red and orange than the 3000K option.
MarsHydro Mars Pro II CREE 128 600W – Best LED Grow Light Under $500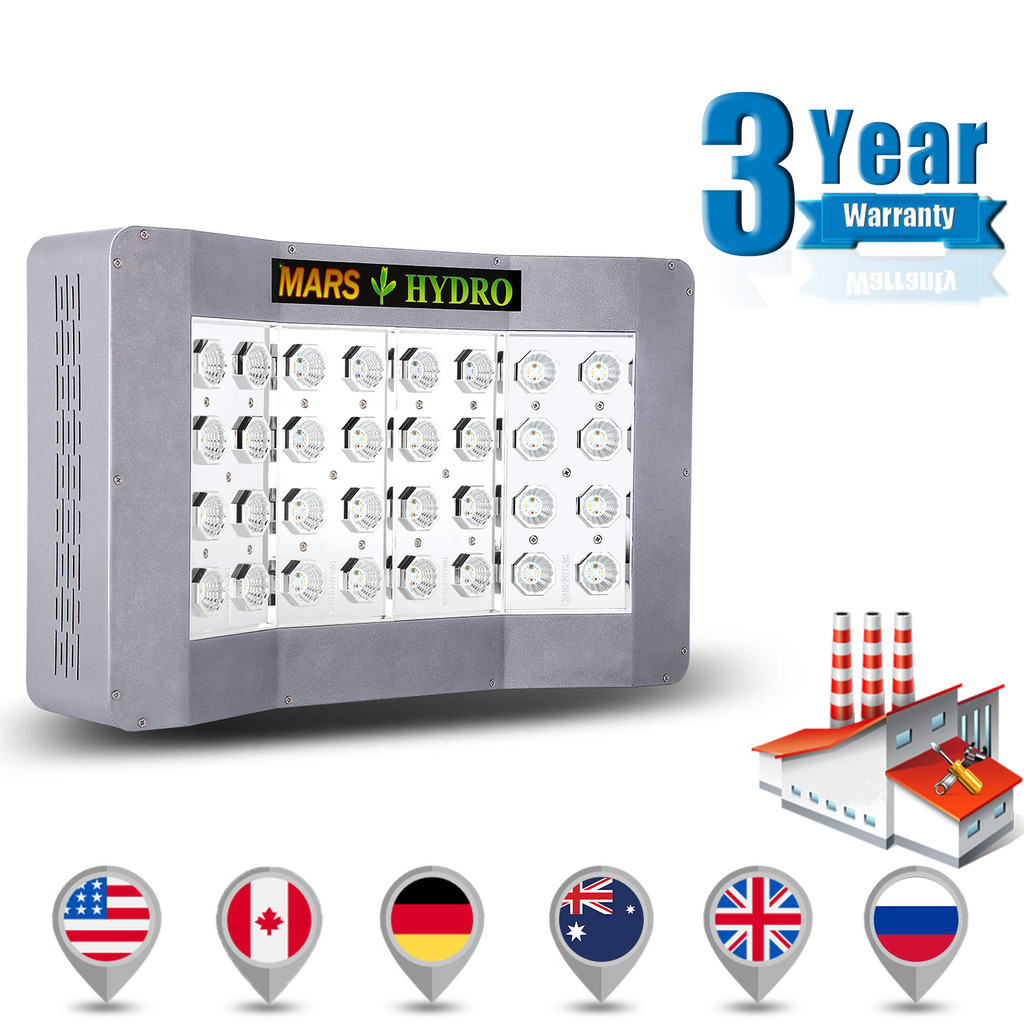 OPTIC 4 (3rd Gen.) COB LED Grow Light 405W (UV/IR) - Best COB LED Grow Light
Like quantum boards, COB (Chip On Board) lights are super-efficient and give you brilliant light penetration. Both also produce full-spectrum, natural-looking white light. The main difference is the way the diodes are spread across the unit—loosely speaking, a quantum board is like a COB light but with the diodes spread out. Optic's COB lights boast genuine USA-made CREE XLAMP CXB2540 80W chips to give you coverage of 3.3' x 3.3' for veg and 3' x 3' for flowering.
The Optic 4 should be plenty large enough for many home growers. However, for bigger or smaller grows, Optic LED COB lights also come in a range of different sizes—all of them boasting pro-quality CREE diodes at a relatively accessible price.
We favor quantum boards over COBs, just slightly. But there's really nothing much in it. Both give even coverage, excellent penetration and enviable yield per watt. So just go for whichever best suits your grow space. Either way, you'll not be disappointed!
BESTVA Reflector Series Elite-1200W - Best LED Grow Light Under $200
Like MarsHydro and Viparspectra, BESTVA aims to create "well designed, well made fixtures at reasonable prices and no unnecessary extras" (BESTVA stands for best value). Unlike some budget brands, they've also been in the business a similar length of time to Mars and Vipar—around 8 years now—so we're happy to recommend one of their lights here. This one's a big seller on Amazon too. Probably because you get a lot of power for not a lot of cash—PAR at the center of the footprint is 1221 umols/m²s (hung at 24").
Even if you shouldn't expect average PAR across the footprint to be as good as the specs at the center, this is still an excellent light for the money. The customer reviews on Amazon and BESTVA's own site are generally pretty glowing too.
Kind LED K5 XL1000 - Best Programmable LED Grow Light
Named "Best LED Innovation" by High Times STASH Awards 2017
Here's a manufacturer that's won more than one High Times STASH award. In 2016, Kind LED won "Best LED Innovation" for its GH Series of supplemental bar lights. Then in 2017, it got the same award again for this impressive beast of a light, the Kind LED K5 XL1000.
This is a true 1000 Watt HID replacement. It comfortably and evenly covers a footprint of 5' x 5' while drawing only 630W, to give you outstanding bud quality and yield per watt, plus significant electricity savings.
We think this is pretty much the gold standard of programmable LED grow lights right now. And if you need something this powerful, it's more than likely the light for you.
Read a full review here.
G8LED G8-600 Full Spectrum MEGA LED Grow Light - Best LED Grow Light for Veg Stage
"Best LED Grow Light" winner High Times Magazine's STASH Awards 2016
The G8LED 600W MEGA LED Grow Light from DormGrow is well worth the price paid for the quality of what you get. High Times Magazine named versions of this light a winner in its 2016 and 2014 STASH Awards (and the bloom-only version was named "Best LED Light" in 2017).
It offers 8-band wavelength plus IR plus UV so it's there to cover the entire growth cycle of your weed and make sure it's potent and tasty. We've named it 'Best for Veg Stage' as, although it can be used for a full grow, DormGrow recommends adding a supplementary red light during flowering for best results.
They claim that running a light at full capacity and intensity, but adding some extra red wavelengths at flowering, is a more economical and effective way to use LED technology, compared to the usual approach where a single light is used and some of the red LEDs are dimmed or turned off during veg. Evidently High Time agrees!
Read our full, in-depth review here.
VIPARSPECTRA VT300 Reflector-Series 300W (Dimmable) - Best LED Grow Light for a Small Grow Room (Up To 2.5' x 2.5')
The VIPARSPECTRA VT300 has been pleasing a lot of customers because it hits the right balance of features for the money—it's currently Amazon's top selling Viparspectra light (Jan 2019). Indeed, what Viparspectra lights do so well is simply being affordable without too much compromise.
You can always expect good build quality, reliability and excellent performance. And unlike many other affordable brands, Viparspectra has a long track record. So you know the price isn't too good to be true.
This is a highly affordable light (under or around $100), with quality and performance not compromised by the inclusion of unnecessary features.
Read our full review here.
Black Dog PhytoMAX-2 400 - Best Commercial Level LED Grow Light
If you want to join the pros, Black Dog LED is one of the biggest names around. As well as a spectrum developed specifically for cannabis over more than 6 years, Black Dog lights are efficient and super-powerful. We've chosen the PhytoMAX-2 400 model because it's a good size for most home grows. It gives even coverage over an impressive 4.25' x 4.25' footprint for flowering and up to 5.25' x 5.25' for veg.
If you want to take your home growing to the next level, Black Dog lights are reliable and widely trusted. They're proven to grow big yields of top quality bud. You won't find many growers with anything but praise for these beasts.
PlatinumLED Platinum Series P900 - Best 1000W HPS Replacement
All of the grow lights from the Platinum Series use revolutionary full-spectrum technology to keep your grow room and plants cool while meeting all their light needs. The P900 offers PlatinumLED's trademark "3x intensity" lights that offer three times the brightness of many competing LED grow lights.
The P900 has 12 bands of light wavelengths including infrared and ultraviolet, the parts you can't see with the naked eye. This panel, and others like it in the Platinum lineup, is about as close to sunlight as you can get indoors. But this isn't a one-trick pony. This panel is good for every stage of growing cannabis.
An adult cannabis plant takes up at least 1 square foot of space in a 3-gallon pot, so the P900 can flower between 12 to a maximum of 24 at a time. Which should be more than enough power for most home growers.
---
Best Selling Budget LED Grow Lights on Amazon
The Amazon bestsellers list is packed with cheap LED grow lights. But are any of them actually worth buying? Are the prices too good to be true?
Well... it depends.
We hesitate to recommend a lot of those lights simply because the manufacturers are very new. So there's no real proven track record yet. Even good customer reviews aren't a great guide here, because they haven't had the lights long enough to tell whether these apparent bargains are built to last. One good grow doesn't necessarily mean they're going to be going strong still in a year or two.
On the other hand, all manufacturers were new at some point. Some of these may be the next Viparspectra or MarsHydro.
And if it's all you can afford, a really cheap light isn't necessarily a bad place to start. You can still learn a lot about growing, without breaking the bank. And they can be fun to experiment with.
The thing with budget options is that there's always a trade-off somewhere. At this price point you won't get a light that does everything and does it brilliantly. We consider a good budget light to be one that's strong in at least one department.
So...
Some of the lights below are no-frills but bright and really do the job, while others pack in a lot of features for a relatively tiny price. All but the Meizhi go for less than $100.
But we feel all these lights strike a good balance between features and doing at least one important thing brilliantly.
Phlizon 600W Full Spectrum LED Grow Light - Amazon Best Seller
Although this doesn't look a great deal different to a lot of lights out there, it's currently Amazon's best selling LED grow light (Jan 2019)! So what is it that sets this apart from the rest?
One word: Price! You get a whole lot of light for not much money here.
Not only that, but also a few features you don't normally get in a light this affordable, such as separate Veg and Bloom switches, UV and IR and the ability to daisy chain multiple units. They even throw in a free temperature and humidity monitor.
The Phlizon 600W comprises sixty 10W double-chip LEDs for core coverage of 2' x 2' hung at 24". It's designed to replace a 400W HID, while consuming just 108W. The warranty is 2 years and it looks like experiences with Phlizon's customer service have been very positive when problems have occurred.
Downsides? A few growers have complained that the fans are a bit noisy. Indiscreet packaging has been another occasional complaint. And some comparable but slightly more expensive lights have better PAR values.
Brightness is what matters most, so we'd recommend getting the highest PAR values you can afford.
But still, at this price point you rarely get so many features. It's easy enough to see why so many people have given it a go.
King Plus 600W Full Spectrum LED Grow Light from KingLED - Another Budget Best Seller
Speaking of competitors to the Phlizon 600W... the King Plus 600W is also among the best sellers on Amazon right now (Jan 2019) and normally goes for about the same price. So how do they differ? Which one should you choose?
KingLED's King Plus 600W claims better PAR values than the Phlizon, name-brand Epistar LEDs and a better 3-year warranty. Both lights include UV and IR in their spectrum. So if it's simply brightness that matters to you, go for the King Plus.
The King Plus also claims to be a 600W HID replacement (but 400W is maybe closer to the mark) with core coverage of 3' x 3' at the veg stage. Power draw at the wall is 120W.
However, the trade-off versus the Phlizon is that the King Plus isn't daisy-chainable, it doesn't have Bloom/Veg switches and you won't get a free temp/humidity monitor.
Again, we'd recommend getting the brightest light you can afford. But if money's tight, or you just want to give growing a try without spending a fortune, this is a great budget option.
Ledgle Grow Light 300W 

- Budget LED Grow Light (Under $100)
While this is a relatively inexpensive full spectrum light, it's got a lot of value for the money—and it's been one of our Top 10 sellers.
For one, the LEDs are huge! They are 6-watts each and there are 50 of them, so this is an intensely bright light that works especially well for dense plants. The panel covers up to 2 by 1.5 feet when the plants are flowering.
The customization options are similar to those on more expensive panels. They include two switches, one for the vegetative stage, and one for flowering. The spectrum covers 11 bands including white light, UV, and IR. The two built-in cooling fans have a backup system to keep running even if one of their chips fails. Global Star offers a 1-year warranty that includes parts and service.
Roleadro GalaxyHydro Series 1000W - Budget LED Grow Light (Under $100)
Amazon's current second best seller (Jan 2019), the Galaxy Hydro 1000 Watt panel is one of the least expensive grow lights we've reviewed. It's a full spectrum light, also including UV and IR, with a power draw of 132W. It  covers 3' by 3' at most (for veg, not flowering), but it's made to be daisy-chained. You can buy two or three of these for the same price of a larger light and link them together like Christmas lights to cover a larger space. GalaxyHydro offers a 2-year warranty with a 30-day money-back guarantee.
A previous version of this model remains very popular with our readers too. And this is a manufacturer with a bit longer track record than Phlizon and many other cheap lights. There are plenty of more powerful lights out there, but if money's tight this one's reliable enough to be worth considering.
MEIZHI Reflector-Series R450 450W LED Grow Light - Budget LED Grow Light (Under $150)
MEIZHI's Reflector-Series R450 450W LED grow light is going head to head with brands like VIPARSPECTRA and Mars Hydro. Its PAR rating of 779 umol is amazing for this price point. Its ninety 5W LEDs cover the full spectrum needed for big healthy buds in your next harvest.
It can replace a 450W HID lamp and save you lots of money in the process because it only consumes 195W of electricity. Turn on the Grow switch for veg, then flip on Bloom for flowering. With 120° reflectors, the panel can cover a 3.5 by 2ft space by itself, or you can daisy-chain it for larger grow tents. Check out the full review for all the details of this budget light with big possibilities.
Looking for something larger? We've noticed our readers also appreciate the 600W version.
---
Best LED Grow Lights for Very Small Spaces or Supplemental Lighting (2019)
Some growers prefer to have one light running at full intensity for a whole grow, but then add in some red lights for flowering. For you guys, we've got a couple of supplemental bloom lights listed below.
Also, we know some of you only have space for a plant or two, while others might want to try something small-scale and low-cost for your first indoor weed growing attempts. So in this section you'll also find a couple of great options for very small grow spaces.
TaoTronics Hydroponic 36W LED Grow Light TT-GL23
This light is tailored to those who are brand-new in their growing operation and need something that works for a small-scale grow room. If you only have a single plant, for example, why would you spend hundreds of dollars on a light for it? The TaoTronics Hydroponic 36W equivalent LED Grow Light is perfect if you want to master your craft without a big initial investment. It probably won't last for your long-term goals, but it's difficult to find a light that's a better value.
Fits a standard E26 socket, lasts up to 50,000 hours and draws only 20W. This is the newest and brightest in the TaoTronics LED grow bulb line and also now has a 60° beam angle for better coverage. Even with one plant, we recommend using two bulbs for best results.
Roleadro 45W Panel LED Grow Light
Here's another small grow light that's been a popular seller with our readers. We would recommend it more for seedlings, these aren't really powerful enough for any marijuana plants older than a couple of weeks. However, if you've got a separate germination area, a few of these low-cost panels could come in handy. And we've heard of them being used for supplemental lighting.
Apollo Horticulture GL60LED 180W LED Grow Light
Apollo is one of the better manufacturers when it comes to LED grow lights and indoor growing equipment, and this small LED grow panel makes an ideal option for a new small plant grower. It fits in a 2 by 2-foot space to cover up to three plants and uses only 90 watts of electricity.
This lamp is easy to hang as it's lightweight and doesn't require ballast. One of the features we like best about the Apollo is that you can hang this lamp closer to the plants than you can others because it runs cool. In fact, this is the lamp we like best for marijuana seedlings because it covers four important wavelengths of the spectrum.
This lamp though small has an impressive life span of over 50,000 hours and the company does offer a 2-year warranty, which is somewhat unusual for an inexpensively priced lamp. The lamp will work with all phases of growth including the flowering stage, although you may want to add a second lamp for that part.
ABI True Red 26W PAR38 Flowering lamp (to assist in blooming)
Let's say you want a bigger yield but you're already stretching the light from your LED panel to the limit. Many growers supplement with an extra red light or two. They encourage better blooming. Since they're also LED lamps, they last for years, so they are a cheap investment.
This 54W-equivalent (actual draw 26W) red light bulb from ABI is an inexpensive way to get more buds and flowers on your weed. It fits in a standard household lamp socket or you can plug it into an extension cord made for light bulbs. Don't worry, it's not hot like an incandescent red lamp, it runs very cool.
G8LED 90W All Red Flowering Boost LED Grow Lights
The perfect accompaniment to the G8LED light listed above. Add one of these per 10 square feet of grow area at the flowering stage for higher yields, more resin and bigger, denser buds. They're 90W HID equivalents, but draw only 75W. Would also work great with other full spectrum, full cycle lights without an extra bloom setting.
---
Our Favorite Light That Didn't Make Our Top 10
Here's one last light for our list of recommendations. It was in our Top 10 until last year, but even though it didn't quite make the cut this year it's too good a light to leave out entirely.
California Lightworks SolarStorm 440W LED Grow Light - Ideal for a 3' by 3' grow tent
California Lightworks SolarStorm 440W LED Grow Light definitely falls under one of the more expensive lights on this page, which along with not being a big seller among our readers was in part (see below) why it dropped out of our Top 10 this year.
But we still want to recommend it here, because this is one situation where you get the results you pay for.
Also, you might be able to pick one up at a bargain price soon—it's been discontinued and replaced by the Solar System 550. That was the other reason why we dropped it from the Top 10.
However, the 440 remains pretty widely available for now. So we'll keep this review up for the time being.
The SolarStorm 440 can replace a 600W HPS light while consuming only 235W during the vegetative stage, 320W in bloom mode and 350W during the final few weeks when the UV-B booster is turned on (see below). You'll get coverage of 3' x 3' for bloom and up to 6' x 6' during veg.
This unit comes in a distinctive bright red color—a stark change from subtly-colored light panels from other manufacturers. And that's far from the only thing that's notable about the SolarStorm.
The light is a bit more intense than those with 3W chips, as this uses 5W OSRAM SSL LEDs instead—88 of them. The optics are all jewel-quality glass focused at 90 degrees. Plus, it has two T8 15W UV-B tubes to enhance growth at the flowering stage—a unique feature.
But don't worry, this panel runs cool and quiet with its built-in fans. And as befits the price tag, it comes with a 3-year warranty to protect your investment.
---
Other LED Grow Lights We Considered and Recommend
Below are short reviews of a number of other excellent grow lights we considered for our top recommendations, or which we have featured in the past.
Even if some of them have been surpassed by some of the lights listed above, they're all still solid, reliable, powerful options. We know these lights are all popular with our readers. And the manufacturers each have a proven track record.
So if you didn't find what you were looking for above, stick around just a little longer. One of these lights will likely suit your needs.
VIPARSPECTRA Reflector-Series 600W - A 420 Beginner Readers' Favorite
A big seller among our readers, the VIPARSPECTRA V600 is the bigger brother of the v300. It comes with all the same features, plus the addition of separate veg and bloom switches.
Replacing a 600W HID light and drawing just 269W on average, the V600 can cover a grow area of 3' x 3' hung at 32" and 2.5' x 2.5' at 22". At the center of the light's footprint, PAR at 24" is 530, 275 at 36" and 784 at 18".
Again you can upgrade for remote control programmability, built-in timer and even better coverage—in this case, to the bar-shaped VT600.
Or the VT600-S has the same square shape and the same coverage as the V600, but the best PAR values of all three V600 options.
VIPARSPECTRA Reflector-Series 450W - A 420 Beginner Readers' Favorite
I guess you'd have to call this one the middle child, size-wise.
Anyway, our third biggest seller, the VIPARSPECTRA V450 is a 400W HID replacement, drawing only 200W. It will give you coverage of 2.5' x 2.5' hung at 24" and 2' x 2' at 18", and the respective PAR values are 415 and 655.
Again, it has separate veg and bloom switches. And there's a VT version, the VT450, a narrower longer light which gives coverage of 3.5' x 2.5' at 28" and 2' x 2' at 20" and PAR at 24" of 396.
MarsHydro Reflector 192 960 Watt LED Grow Light - Ideal for a 4-Plant Grow Room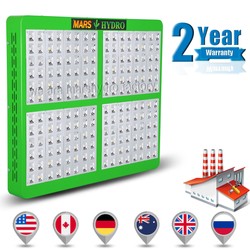 The MarsHydro Reflector 960W fits much better in a small square 4' by 4' grow tent than many of the rectangular panels we've reviewed. So if you're in Canada, this would be plenty powerful enough for a four plant grow room (the limit where home growing is legal).
We noticed some slight singeing when we used the "flower" setting, but there were no such problems with the "veg" setting—one of the perks of an adjustable spectrum. Those with other lights in consideration will probably prefer to use this one as a back-up light, but it definitely excels when compared to less expensive options.
It wasn't in our Top 10 sellers. However, among our readers this was one of the most popular lights of its size.
PlatinumLED Platinum Series P600 - Excellent 800W HPS Replacement
For one of the most advanced grow lights we've ever used, consider the Platinum Series P600. This grow light is a hefty investment, but most growers will agree that premium results are worth a premium price tag. The build on this is durable and easy to set up. It's one of the best LED grow lights to buy (see also: "Top LED Grow Lights 2018 & Reviews from the LED Grow Lights Experts" on Big Buds Guide), if you have the money to invest in your crops. The core coverage area is about 2 feet by 5 feet, so you can hit the "Bloom" switch for about 5 to 10 plants, maximum.
The Platinum Series combines intense light and powerful fans so your plants don't burn. The light is intense enough that you can physically see it penetrate the plants – an impressive feat. Further, these lights come with something completely unheard of: A 5-year warranty and exceptional customer service provided by the company directly. With the energy savings against an 800W HPS alone, this unit will pay for itself before the warranty runs out.
Read our full review here.
PlatinumLED Platinum Series P300 - A 420 Beginner Readers' Favorite
For those who love the P600 but don't have quite that large of a budget or size of a grow tent, the Platinum Series P300 is a great runner-up—and has been a popular light with our readers.
This is definitely a more affordable LED grow light that offers many of the same benefits as the P600, but at around half the price.
Its coverage is about 4.5 feet by 3.8 feet at an 18-inch height, perfect for compact grow areas, or when used in combination with additional lamps for larger areas. This light panel effectively replaces a 400W HPS light, while only actually using 180 watts of power—making it an energy efficient alternative to a traditional light. It's just perfect for the small home grower. Just as the P600 represents the higher end of the market, this is still a serious piece of equipment—practically a steal for the amazing coverage you get.
PAR values
This is a system that has a great high PAR output. What does that mean? Well it means the panel gives off about 2 to 3 times the intensity of other grow lights.
More importantly, it has an 11 band spectrum that gives your marijuana plants the most nutritional value including those needed from UV and IR. The light chips are all 3W LEDs, and as I've mentioned before, the best 3-watt panels have an additional lens to focus the light a bit more. This panel comes with a 60-degree lens and secondary 90-degree focusing lens to give more intensity for plant growth.
The chips in this lamp are also replaceable and another reason for the slightly higher price tag. This means you can always keep that 400-watt output, even when a chip blows. Just order the one chip and replace it when it arrives from the manufacturer. With a 5-year guarantee, Advanced LED offers security to their customers.
For more info, check out our full review.
---
LED Grow Lights Buyer's Guide & FAQ
Here's our FAQ about LED grow lights. If you're new to growing, or just want to brush up, enjoy! Also, check out our beginner's guide to marijuana grow lights, which covers everything below in greater detail.
What makes the best LED grow light for indoors growing success?
Choosing the best light for your grow room depends on a few factors. You need a light powerful enough to cover the area where you grow, and that may vary depending on whether you have a dedicated space for seedlings and clones, or if your weed grows to maturity in one place.
Another factor is whether you want an all-purpose light, or if you plan to supplement it with other lamps for veg and flowering.
If you're especially looking for low running costs or stealth growing, then LED grow lights are very much your friends.
Finally, at least with LED grow lights you don't have to worry about replacing bulbs, dealing with ballast, or running too hot. All those things were problems with HID HPS/MH lights but they aren't an issue with LEDs.
Let's take a closer look at the best LED grow lights—and to help you choose the right light for your grow space we'll make sure to include details of coverage area. And if you want to check coverage areas at a glance, just take a look at the table above.
How to choose the best LED grow light
Here are some of the most important things to keep in mind when choosing an LED grow light to grow cannabis:
The area you need to cover: The first thing that you should keep in mind is the area that needs to be covered. By knowing this, you can decide how many LED lights you will need, and which type of LEDs will provide you the best coverage. In order to cover more space, more lights can be placed adjacent to each other.
The phases of the plant growth: If you need a full growth cycle, you can select a full-spectrum LED grow light to assist in all phases. Or many lights have switches and/or dimmers for each grow stage.
Angle of the LED lens: Also look for the angle of dispersion within the LED bulbs. The greater angles mean more coverage while the lesser angles mean less dispersion and more direct light.
Your budget: Factor in the features that are necessary for you and the amount of money you are willing to spend—both up front and on running costs. An LED grow light can be expensive up front, but can save you money long term thanks to the much lower running costs.
Why choose full-spectrum LED grow lights?
The reason is simple.
Full spectrum LED grow lights are a relatively new product on the market and many growers are not all that familiar with these new lighting systems. Most people believe the giant fluorescent lamps or HPS and Metal Halide lamps are the best grow lights to use over an indoor growing marijuana garden, but they aren't. Full spectrum light systems have the advantage, because:
They mimic real sunlight
Encourage high yields
Can increase potency and flavor
Cost less to run over time
Run cool and don't need extra fans
Don't flicker or need ballast
Their lamps don't need replacing for 50,000 hours or more—that's years of trouble-free service
They're safer and more environmentally friendly
Consider updating an outdated system to a full-spectrum LED panel today. If you go with one of the picks below, we're sure you won't look back.
Put together your grow room kit
Some useful gadgets that will be helpful in your grow room:
==>Beginner's Setup for Growing Cannabis Indoors<==
Sunglasses? Yes, we're serious. You wear them outside, right? Protect your peepers from UV rays indoors too when you're running a full-spectrum LED light. Remember, these lights are powerful!
Nutrients, even plants need their vegetables and minerals. The nutrients you give them don't just affect yield, they affect flavor. Don't have poop-flavored pot. Choose your plants' nutrients wisely.
Grow tent. Yes, it's a good idea even if you're already growing in a closet or enclosed space. It's easier to control the climate for your weed with a tent. You can protect them from stray light sources when they are supposed to be in the dark and you protect yourself from their light when you're supposed to be sleeping. Plus, it keeps humidity under control and smells, too.
Light meter. Maybe you think only advanced growers use them, but you can use one, too. Then when you're advanced, you'll already know how.
Thermometer and hygrometer. Of course you want to know the ambient conditions in your grow tent. We picked the most kick-ass model on the market to show you. It will last you for years.
If you're looking for a complete grow tent kit, including lights and everything else you'll need to grow, check out this Custom Grow Room Builder tool from GrowersHouse.com.
How does it work? Just select how many plants you want to grow, your preferred lighting (LED, HID or CMH) and grow style (soil, coco coir, ebb & flow hydro or flood & drain hydro) and the site will offer you a selection of complete grow room packages ready to have shipped to you. Once assembled, all you'll need are some seeds!
What is an LED Grow Light?
Let's start with a little intro about LED grow lights.
LED:that stands for "light emitting diode"
Grow:it helps plants to grow best when they have been planted indoors
Light:it provides light energy that will mimic the way the sunlight would have affected these plants when grown outdoors
It provides various wavelengths of visible and invisible light including UV and IR rays that can directly increase the growth and hence the yield of any plant grown under these lights.
How Do LED Grow Lights Work?
How can these tiny little lights can help your plants grow better when there is no sunlight?
Plants have a tendency to absorb more blue light than other colors like white or green; hence, the UV rays are best to induce vigorous plant growth, while the infrared rays are best catalysts for germination and blooming boost.
The wavelengths can be adjusted according to the requirements of your plants in the grow room. If you have plants to grow that are in their vegetative phase, using UV rays would increase the cell division when the plants absorb the rays. Due to the increase in cell division, the plants grow quickly and result in more yield.
In case you need to treat your plant during the flowering stage, the most effective LED lights are those which provide IR, or infrared, rays. These rays are readily absorbed by the buds and apex of the plant and this causes them to bloom quickly and heavily.
We would recommend an LED grow light that has a wide range of wavelength options available, so that you can adjust according to the effects that you need.
The amount of light, type of light emitted, types of plants being grown, Lumen per area, wavelength, and the height between plants and the light can all affect the growth of the plant being treated.
What Are the Benefits of Using LED Grow Lights?
Before the rise of LED grow lights, there were other similar methods in use. These include high-pressure sodium lamps and fluorescent bulbs. These methods were not at all favorable for small grow room owners who need to have a small, compact structure. These lights needed a lot of space to set all the equipment, due to the huge amount of heat being produced and the need to have a proper ventilation system to avoid heat build-up. This mess made that process out of reach for the small grow room owners.
LED lights take up a minimal amount of space, don't contribute extra heat, don't need their bulbs replaced, don't have ballasts to manage, and use half the electricity to run.
Compact and easy to install:These lights come in a very compact structure that is very easy to handle. You will not need any specific knowledge to get them installed. You can just have a proper place to hang them above the plants at the required distance.
No need for separate ventilation set up:These lights don't emit a lot of heat and there is no need to have a proper ventilation system. They can work without any huge ventilation setup and type of large fans.
Can be installed adjacent to each other:As said earlier they have a compact design and most of them can be installed adjacent to each other in order to give more coverage.
Variety and control:Their wavelengths can be adjusted easily and also the modes for vegetative and blooming phase can be chosen.
All these factors have made us great fans of these LED grow lights, because they give us great results with a lot less hassle and cost.
How Many Watts Do You Need?
When it comes to LED grow lights, it's not really about the wattage.
Firstly, wattage isn't a measure of brightness or intensity. It's just a measure of how much power is being drawn at the wall. Yes, if you compare two bulbs of different wattage but exactly the same technology, then the higher wattage will be the brighter bulb.
However, LEDs are much more efficient than HID lights, so an LED that draws the same power as an HID will generally be much brighter.
To complicate things further, there are various competing LED technologies.
And then there's the matter of secondary optics to intensify brightness even further...
So how do you know if your plants are going to be getting enough light?
Well, first it depends on which strain you're growing. Different strains have different light requirements. So we recommend that you first pick a strain, then start looking at grow lights.
Once you know how much light your chosen strain will need, compare it with the PAR and coverage charts provided by grow light manufacturers. A reputable manufacturer should give you plenty of information about what size of grow area their lights can cover and at what heights, as well as the PAR values across the whole footprint. Naturally you'll need a light that can supply at least as much PAR as your chosen strain needs, but for maximum yields the more PAR you can give your plants the better.
What Are PAR Values?
Photosynthetically Active Radiation (PAR) refers to the wavelengths of light that plants can actually use to photosynthesize. The more of these wavelengths your cannabis plants are getting the better.
PAR is generally measured in two ways: PPF and PPFD.
PPF is Photosynthetic Photon Flux. Which just means how many photons of usable light are being emitted by the light. This is measured in micromoles per second (μmol/s).
PPFD, however, stands for Photosynthetic Flux Density. This is an even more important measure, because it specifies not just how much PAR is emitted by your grow light, but how much of that light actually falls on the plant. The numbers you'll see are in micromoles per square meter per second (μmol/m²/s).
Some manufacturers only give you PPF, and others only give you measures from right in the center of the light's footprint. Both tactics can allow sub-standard manufacturers to make inflated claims, by only stating their PAR values very selectively! So to be sure you're getting what you need, always make sure to check for diagrams of PAR values across the whole footprint and at different heights.
What Are Quantum Boards?
Check out almost any thread about LED grow lights on grower's forums or Facebook groups and sooner or later someone will usually start praising quantum boards — usually, even more highly than COBs.
I built and customized my own. It cost a fraction of other lights. The results are outstanding. I'd never go back… and so on.
Sounds great, right?
So what exactly are quantum boards? And what's so amazing about them?
Well, a quantum board is basically clever printed circuit board technology that allows you to pack hundreds of intense, top bin LED diodes onto one board with no extra cooling needed.
That means very even coverage and deep penetration beneath the canopy.
They're full spectrum white lights.
And most importantly: they're about the most efficient LED lights out there.
On the downside, you don't get the fancy features of some more expensive lights, such as programmable spectrum, built-in timers, remote control, smartphone apps, etc.
But most growers who've tried them would argue that performance, efficiency and lower costs more than make up for that.
And they are genuinely dimmable, without losing efficiency — unlike many lights with "dimmer" switches, which rather than truly altering brightness just turn off some of the diodes.
That gives you a bit of flexibility as to how you use them. For instance, you've got the option of dimming the light a little instead of raising it higher above the plants.
They're also highly customizable. So you could easily build or customize one to the size and shape of your grow room. Or experiment to your heart's content with different diodes and layouts.
But if you're not into DIY, not a problem!
Horticulture Lighting Group (HLG), the manufacturer of quantum boards, sells complete pre-assembled grow lights, as well as grow light kits you can (very easily) assemble yourself and, for the more adventurous, just the boards on their own.
If you want a pre-assembled light, our recommendation is the HLG 550 V2.  See above for our reasons why.
Wrapping Up
Well, we hope you've enjoyed this massive buyer's guide to the best LED grow light for your plants. For some more reviews and interesting reading, check out Big Buds Guide too. Good luck and happy growing!